GALLERY BERSHAD
---
MEREDITH EPPEL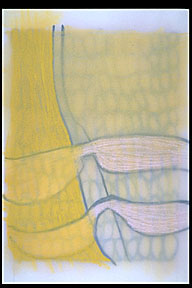 Biography
Meredith Eppel received her Masters in Education with an Arts in Education concentration from the Harvard Graduate School of Education in 1997. She also holds a Masters in Teaching in Art Education from the School of the Museum of Fine Arts/Tufts University. She has pursued studies in painting at the School of the Museum of Fine Arts, the School of the Art Institute of Chicago, the Rhode Island School of Design, and at the Colorado College where she was awarded honors in studio art.
Eppel maintains two careers simultaneously - she is an educator and researcher in the field of art in education, and she is an artist. Prior to taking on her role as director of the National Arts & Learning Foundation, she worked for six years as a researcher in arts education with the educational research group Harvard Project Zero. Her research focused on the educational effectiveness of community arts organizations and the sustainability of educational partnerships between public schools and professional artists and cultural organizations. She has been an arts education instructor in the Department of Education at Brandeis University, and has been an artist-in-residence in elementary schools in the Boston area. Eppel also exhibits her own art. Her work has most recently been on view in solo and group shows at Creiger-Dane Gallery and Associates in Boston, the Field Gallery and the Vineyard Studio Gallery on Martha's Vineyard, and in many group shows including a recent Boston exhibit entitled New England's Emerging and Established Artists. She has also exhibited at Harvard University, the Armenian Museum of America, and the Federal Reserve Gallery in Boston. She maintains an artist studio in Boston's South End, where she is a member of the United South End Artists. She has received several arts awards including local cultural council and emergency aid grants from the Massachusetts Cultural Council.
Artist's Statement
In her artwork, Eppel is drawn to organic forms and layered images. She creates and explores dichotomies between opaque and transparent, figurative and abstract, visible and obscured. In her recent series, Eppel starts by making a series of quick ink drawings on tracing vellum, then combines and recombines a selection of drawings, watching as forms appear and disappear, and as lines suggest other relationships and directions. When she has a workable selection of three to five drawings, she begins to introduce color into the process, further delineating the evolving relationships and creating further complexity in the work. She sometimes pairs groups of drawings with a painting of related forms executed on board, as if to ground the layered drawing, and to contrast it with the solidity of oil paint, wax, and wood.
Eppel describes her work as "exploring relationships between evolving forms in often ambiguous ground." The universality of cocoon- and seed-like shapes and the ways they suggest simultaneous expectations of growth and decay intrigue her. Within each work, these forms may either appear submerged, embedded, dormant, or in the process of emerging or transforming, taking on a multitude of lives within one work. Eppel's works are not rigidly planned. Images emerge through an additive and subtractive process of layering materials and peeling them away; relationships between elements are defined as line, color, and form converge. Forms are often caught in transience - captured just as they begin to form, but before they become immutable.

Resume
EDUCATION
1997 EdM, Arts in Education, HARVARD GRADUATE SCHOOL OF EDUCATION, Cambridge, MA
1992 MAT, Art Education, SCHOOL OF THE MUSEUM OF FINE ARTS/TUFTS UNIVERSITY, Boston, MA
1988 BA, Fine Arts, COLORADO COLLEGE, Colorado Springs, CO
1987 SCHOOL OF THE MUSEUM OF FINE ARTS/ TUFTS UNIVERSITY, Boston, MA
1986-87 SCHOOL OF THE ART INSTITUTE OF CHICAGO, Chicago, IL
1985 RHODE ISLAND SCHOOL OF DESIGN, Providence, RI
SOLO EXHIBITIONS
1999 HARVARD UNIVERSITY, Dual Nature: 3 Artists, 3 Educators (3-person exhibit), Gutman Library, Cambridge, MA Curated by Randi Hopkins, Allston Skirt Gallery, Allston, MA
1997 CREIGER-DANE GALLERY AND ASSOCIATES Recent Paintings and Drawings, Boston, MA
1996 VINEYARD STUDIO GALLERY, Passages of Gatherings, Martha's Vineyard, MA
1995 VINEYARD STUDIO GALLERY, Unanticipated Outcomes, Martha's Vineyard, MA
FEATHERSTONE GALLERY, New Work, Martha's Vineyard Center for Visual Arts, Martha's Vineyard, MA
1994 HARVARD UNIVERSITY, Pieces of the Puzzle, Gutman Library, Cambridge, MA
1993 THE FIELD GALLERY, Degrees of Shelter, Martha's Vineyard, MA
1992 VINEYARD HAVEN PUBLIC LIBRARY, Two Island Views (two-person exhibit), Martha's Vineyard, MA
GROUP EXHIBITIONS
2000 UNITED SOUTH END ARTISTS' OPEN STUDIOS, Boston, MA
CREIGER-DANE GALLERY, Where Do You Draw the Line?, Boston, MA
CREIGER-DANE GALLERY AND ASSOCIATES, Women Artists in Boston, Boston, MA
ARMENIAN MUSEUM OF AMERICA, Continuations: New Works by Former Kendall Center for the Arts Artists of Watertown, Watertown, MA. Funded by the Watertown Cultural Council, a local agency of the Massachusetts Cultural Council.
RANDOLPH ASSOCIATES FINE ARTS, Artists from Kendall Center for the Arts, Belmont, MA
1999 UNITED SOUTH END ARTISTS' OPEN STUDIOS, Boston, MA
CREIGER-DANE GALLERY AND ASSOCAITES/OFFICE ENVIRONMENTS OF NEW ENGLAND, Contemporary Art Exhibit '98-99: New England's Emerging & Established Artists, Boston, MA
ANNE REID ART GALLERY, Princeton, NJ
1998 CREIGER-DANE GALLERY AND ASSOCIATES, Gallery Artists Exhibit, Boston
1997 LIBRARY ARTS CENTER GALLERY, New Art: New England, Newport, NH
Juror: Timothy Rub, Hood Museum of Art, Dartmouth College, Hanover, NH
GUTMAN LIBRARY, Harvard University, Bauman Foundation Arts Commission Exhibition, Cambridge, MA
MAUREEN AND ROBERT ROTHSCHILD GALLERY, Sanctuary, The Bunting Institute, Cambridge, MA
1996 LOWELL STREET GALLERY, Painting and Sculpture '96, Cambridge, MA
Jurors: Nick Capasso, DeCordova Museum and Sculpture Park, Lincoln, MA; Barbara Singer, Barbara Singer Fine Arts, Cambridge, MA
LOWELL STREET GALLERY, 1996 Prize Show, Cambridge, MA
Juror: Carl Belz, Rose Art Museum, Brandeis University, Waltham, MA
UNIVERSITY PLACE GALLERY, Gender in Art-What Women See, Cambridge, MA
Jurors: Ron Platt, List Visual Arts Center, MIT; and Bonnie Porter, Photographer, 1995 Winner, Maud Morgan Award, Museum of Fine Arts, Boston
1995 VINEYARD STUDIO GALLERY, Fall Group Show, Martha's Vineyard, MA
THE FIELD GALLERY, Gallery Artists Group Show, Martha's Vineyard, MA
FEDERAL RESERVE GALLERY, Cambridge Art Association Juried 50th Anniversary Exhibit, Boston, MA
Jurors: Gerry Bergstein, Painting Faculty, Boston Museum School; Carlos Dorien, Prof. of Art, Wellesley College; Sandra Mongeon, DeCordova Museum, Lincoln, MA
MAUREEN AND ROBERT ROTHSCHILD GALLERY, Celebrating the I, The Bunting Institute, Cambridge, MA
1994 GAY HEAD GALLERY, Selected Works, Martha's Vineyard, MA
THE FIELD GALLERY, Gallery Artists Fall Show, Martha's Vineyard, MA
1993 LOWELL STREET GALLERY, Juried Paintings, Cambridge, MA
THE ANNE REID ART GALLERY, Princeton, NJ
LOWELL STREET GALLERY, Fall Salon, Cambridge, MA
THE FIELD GALLERY, Gallery Artists, Martha's Vineyard, MA
GAY HEAD GALLERY, Selected Works, Martha's Vineyard, MA
1993 - 2000 GROSSMAN GALLERY, Annual Museum School December Juried Exhibition, School of the Museum of Fine Arts, Boston, MA
1993 - 98 KENDALL CENTER FOR THE ARTS, Annual Open Studios, Belmont, MA
AWARDS AND GRANTS
Massachusetts Cultural Council Local Cultural Council Grant, Watertown, MA. 2000
Massachusetts Cultural Council Emergency Artists Grant. 1999
Arts Commission, Bauman Foundation/Harvard Graduate School of Education. December 1996
Artist Residency, Arlington Public Schools, Massachusetts Cultural Council and Arlington Education Enrichment Fund, Inc. 1996
Honors in Studio Art, Convocation Award, Colorado College, Colorado Springs, CO. May 1988
PUBLICATIONS AND EXHIBITION REVIEWS
Parcellin, P. "Drawing Show Takes Off-The-Wall Approach," Retro-Rocket.Com: Boston's Journal of Arts & Film, July 2000
McQuaid, C. "Putting Narrative within the Frame," Galleries, Living/Arts, The Boston Globe, July 27, 2000
Boyd, B. "Artists Rise from the Ashes," Community Newspaper Company: Cambridge and Watertown Tab, June 8, 2000
ArtsMedia, Listings (reproduction), June 2000
Art New England, Art New England's Annual 1999 Artists' Directory (reproduction), April/May 1999
Catalog with reproductions, Contemporary Art Exhibit '98-99: New England's Emerging & Established Artists, Sponsored by Creiger-Dane Gallery and Office Environments, Boston, MA. 1999
Catalog with reproduction, John Landrum Bryant Lecture/Performance Series: Gift Tribute Series, 1996-97. Harvard Graduate School of Education, Cambridge, MA. 1997
Nicholls, D. "At Studio Gallery, New Show Features Two Artists' Work," Vineyard Gazette, July 5, 1996
Nicholls, D. "Vineyard Studio Gallery Shows Works of Painter and Sculptor," Vineyard Gazette, September 15, 1995
Parker, D. "Gallery Shows Sculpture and Paintings," Vineyard Gazette, September 1, 1995
Catalog with reproductions, Leviathan: 25th Anniversary Edition, Cutler Publications, Colorado Springs, CO. 1994
SELECTED COLLECTORS, INDIVIDUAL AND CORPORATE
Stephen Andrus, Cohasset, MA
Megan Armstrong, San Francisco, CA
Carol Berman, West Hartford, CT, & Edgartown, MA
Madzy Besselaar, Seattle, WA
Norma Brown, Lebanon, NJ, & Edgartown, MA
Elizabeth J. Darley, Sudbury, MA
Jessica and William Davis, Boston, MA
Georgie Holst-Knudson, Essex Falls, NJ, Chilmark, MA
Elizabeth Liao, Newton, MA
Marybel Lucas, Boston, MA
MEDITECH Inc., Westwood, MA
Dianne Nicholls, Cambridge & Vineyard Haven, MA
Keith Pension, Naples, FL, & Bryn Mawr, PA
Samuel Perry, Chestnut Hill, MA
Judy Katz and Dean Solomon, Boston, MA
Robert and Kay Tait, Dallas, TX
Virginia Meredith Thomas, Cambridge, MA

PROFESSIONAL AFFILIATIONS

Arts Advisory/Boston, Boston, MA
Arts Focus, Cambridge, MA
Bershad Gallery, Somerville, MA
Cambridge Art Association, Cambridge, MA
Creiger-Dane Gallery and Associates, Boston, MA
Martha's Vineyard Center for the Visual Arts, Vineyard Haven, MA
Massachusetts Art Education Association
National Art Education Association
United South End Artists, Boston, MA
Women's Caucus for Art, Boston, MA
ARTIST-IN-RESIDENCE
Bishop Elementary School, Arlington Public Schools, Arlington, MA, 1997
The Atrium School, Watertown, MA, 1993 ART SPECIALIST
Atrium School, Watertown, MA, 1992-1994
Kendall Center for the Arts, Belmont, MA, 1992-1993
Beaver Country Day School, Chestnut Hill, MA, 1992
PROFESSIONAL PUBLICATIONS
Arts Survive: The Sustainability of Arts Education Partnerships, with S. Seidel (Harvard University) 2000
The Wheel in Motion: The Co-Arts Assessment Plan from Theory to Practice, with J. Davis et al (Harvard University) 1996
Another Safe Haven: Boulevard Arts Center Then and Now, with J. Davis et al (Harvard University) 1996
Project Co-Arts School Reform and Funder Symposium Reports, with B. Solomon (Harvard University) 1995