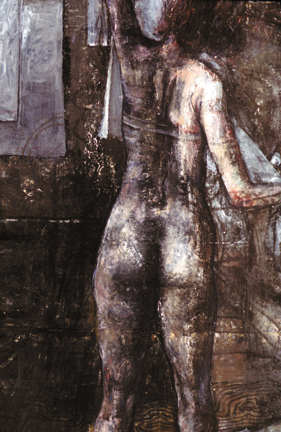 jim peters
paintings and constructions

view peters' gallery collection

Jim Peters exhibits with CDS Gallery in New York and Berta Walker Gallery in Provincetown. He has also had solo exhibitions with, among others: the University of Connecticut's Atrium Gallery and the Fine Arts Work Center in Provincetown. In 1985 Peters was selected for the Solomon R. Guggenheim Museum's New Horizons in American Art: 1985 Exxon National Exhibition and since 1993 for the The Art Show, 7th Regiment Armory in New York. Peters' was twice awarded the Massachusetts Artist Fellowship Award and was a Provinetown Fine Arts Work Center Fellow from 1982-84. In 1983 he received first prize in painting from the Mystic Art Association's Annual Regional Juried Exhibition.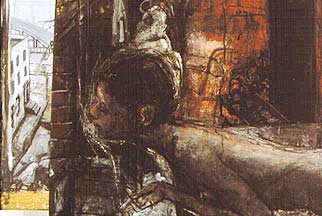 Peters has been a Drawing and Painting Instructor at Truro's Castle Hill Center for the Arts and the Fine Arts Work Center's Summer Program, in Provincetown since 1995; he was Chairman of the FAWC Visual Arts Committee for ten years. Jim Peters has been a Guest Lecturer/Visiting Artist at Williams College, Brandeis University, Massachusetts College of Art, the DeCordova Museum, the Fine Arts Work Center, and the Provincetown Art Association and Museum. Peters has additionally lectured at venues from the Vero Beach Center for the Arts in Florida, in New Hampshire at Dartmouth and Plymouth State Colleges, Loyola College in Baltimore, and the Rhode Island School of Design.
Peters holds a B.S. from the United States Naval Academy in Annapolis, an M.S. in Nuclear Engineering from M.I.T., and an MFA in painting from The Maryland Institute's College of Art in Baltimore. Jim Peters is a father, resident, and art teacher on Cape Cod, Massachusetts.

BIOGRAPHY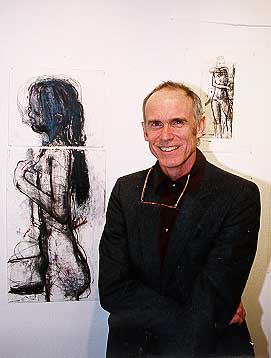 Education
1963-1967 United States Naval Academy, Annapolis, MD, B.S.(Physics)
1967-1969 Massachusetts Institute of Technology, Cambridge, MA, M.S.(Nuclear Engineeering)
1975-1977 Maryland Institute, College of Art, Baltimore, MD, MFA (Painting)
Solo Exhibitions
2000 Drawings and Prints", Gallery Bershad, Somerville/Boston "Jim Peters: Works", Mazmanian Art Gallery, Framingham State College Framingham, MA
1999 "Jim Peters, New Paintings", CDS Gallery, New York, NY
"Jim Peters", Berta Walker Gallery, Provincetowm, MA
"Constructions and Paintings, Jim Peters", Gallery Bershad, Somerville/Boston
1997 "Jim Peters,New Paintings and Constructions",Berta Walker Gallery, Provincetown,MA
1996 "Small Works Plus One, 1983-1996," Fine Arts Work Center,Provincetown, MA
1995 "Paintings and Constructions", Berta Walker Gallery, Provincetown, MA
1994 "Process/Painting, Jim Peters," Gallery 53, Cooperstown, NY
1993 "Jim Peters, New Works," CDS Gallery, New York, NY
"Jim Peters, Paintings and Constructions," Berta Walker Gallery,Provincetown, MA
"Jim Peters," Kubiak Gallery, UCCA, Oneonta, NY
1992 "Paintings of Jim Peters," Loyola College, Baltimore MD
1991 "Jim Peters," CDS Gallery, New York, NY
"Paintings and Constructions", Berta Walker Gallery, Provincetown, MA
1989 "Jim Peters Paintings," Atrium Gallery, School of Fine Arts, University of Connecticut, Storrs, CT
"New Paintings",Bayer Fine Arts, Provincetown, MA
"Jim Peters," CDS Gallery, New York, NY
1988 David Brown Gallery, Provincetown, MA
"Jim Peters," CDS Gallery, New York, NY
1987 "Jim Peters," Michael Maloney Gallery, Santa Monica, CA
"Jim Peters, New Works" CDS Gallery, New York, NY
1986 "Jim Peters," CDS Gallery, New York, NY
1984 Hudson D. Walker Gallery, Fine Arts Work Center, Provincetown, MA
1979 Cummings Art Center, Connecticut College, New London, CT
Selected Group Exhibitions
2000 The Collection of the Provincetown Art Association and Museum, The National Arts Club, NY,NY
2001 The Art Show ( CDS Gallery),Seventh Regiment Armory, NY,NY
Former Fellows 1968-1984 Small Works Show, Hudson D. Walker Gallery, Fine Arts Work Center, Provincetown, MA
"Great Expectations, A New York Happening for Castle Hill", Ethan Cohen Fine Arts, NY,NY
"Classic 2000", Schoolhouse Center for Art and Design, Provincetown, MA "Mount Royal 25th Anniversary Exhibition; A Tribute to Babe Shapiro", Maryland Institute, College of Art, Baltimore, MD
1999 Cherrystone Gallery, Wellfleet, MA
"Provencetown, 100 Years an Art Community", Lamia INK, New York, NY
1998 "The Age of Drawing: an International Scene", CDS Gallery, New York, NY
"Former Fellows, FAWC", Fine Arts Work Center, Provincetown, MA
"Painter's Eye" (selected by Gregory Gillespie), Provincetown Art Association and Museum, Provincetown, MA
"Cheap Thrills", DNA Gallery, Provincetown, MA
1997 "The Art Show", Seventh Regiment Armory, New York, NY
"Connections Boston-Provincetown", New Art Center, Newtonville, MA "Domestic Bliss", DNA Gallery, Provincetown, MA
1996 "Juried Show, by Deirdre Scott," The Painting Center, New York, NY
1995 "The Young Ones," CDS Gallery, New York, NY
1993 "Four Painters: Developing Vision," Plymouth State College,Plymouth, NH "Fine Arts Work Center Twenty-fifth Anniversary Show,"Provincetown Art Association and Museum, Provincetown, MA
1992 "I, Myself and Me," Midtown Payson Galleries, New York, NY
"The CDS Collection," CDS Gallery, New York, NY
1991 "Lost and Found, the Painterly Images," New York Studio School, New York, NY
"Fine Arts Work Center Visual Committee Show," Fine Arts Work Center, Provincetown, MA
1990 "Crosscurrents II," East Hampton Center for Contemporary Arts, East .Hampton, NY
"Students of Babe Shapiro," (in conjunction with "Babe Shapiro, a Twenty-five Year
Retrospective"), Maryland Art Place,Baltimore, MD
"Faculty Exhibition," Foreman Gallery, Hartwick College, Oneonta NY,
1989 "Fables and Fantasies," Duke University of Art, Durham, NC
"American Art Today: Narrative Painting," Florida International University, Miami, FL
"The Art Show," Seventh Regiment Armory, New York, NY
"Contemporary Provincetown," Provincetown Art Museum, Provincetown, MA and Murray Feldman Gallery/Pacific Design Center, West Hollywood CA, "Massachusetts Artists Fellowship Winners," Artists Foundation Gallery,Boston, MA
Gallery Artists, Ianetti Lanzone Gallery, San Francisco, CA
"New Artists, New Drawings," Lyman Allyn Art Museum, New London,CT
1987 "To Objectify the Subjective: The Contemporary Symbolist Sensibilities,"The Bronx Museum of Art,New York,NY
1986 "Short Stories,"(curated by Judd Tully ), One Penn Plaza, New York, NY "Saints and Sinners: Contemporary Responses to Religion," Decordova and Dana Museum , Lincoln, MA
"Thirteen Americans," CDS Gallery, New York, NY
"Further Exposure," CDS Gallery, New York, NY
1985 "New Horizons in American Art: 1985 Exxon National Exhibition," The Solomon R. Guggenheim Museum, New York, NY
"The Ten Year Anniversary Show," College of Art, Maryland Institute,Baltimore, MD
"Southern Exposure," Brockton Art Museum, Brockton, MA
"The Neo-Figure," Yares Gallery, Scottsdale, AZ
1984 East End Gallery, Provincetown, MA
1983 "Ten Fellowship Artists," Marisa del Rey Gallery, New York, NY "Drawings of Seven Connecticut Artists," Slater Museum, Norwich, CT
1982 Mohegan Community College, New London, CT
1981 "Three New London Artists," New Gallery, New London, CT
1979 "Arts Tower Artist's Reunion," The Arts Tower Gallery, Baltimore, MD "Three Figurative Painters," The Arts Tower Gallery, Baltimore, MD
Awards
1999 Adolph and Esther Gottlieb Foundation Individual Artist Grant
1985/1988 Massachusetts Artist Fellowship Award
1983 First Prize, Painting, Annual Regional Juried Exhibition, Mystic Art Association, Mystic, CT
1982-1984 Fellowship, Fine Arts Work Center, Provincetown, MA
1967-1969 Atomic Energy Commission Fellowship
1966-1967 Trident Scholar, U.S. Naval Academy, Annapolis, MD
Selected Museum and Corporate Collections
The Solomon R. Guggenheim Museum, New York, NY
William Benton Museum, Universiity of Connecticutt, Storrs, CT
Centro Cultural Arte Contemporaneo, Mexico City, Mexico
Mohegan Community College, Norwich, CT (mural)
Center for the Fine Arts, Vero Beach, FL
Provincetown Art Association and Museum, Provincetown, MA Flint Institute of Art, Flint MI

Teaching Experience
1999- Provincetown International Art Institute, Provincetown, MA. Instructor, Painting
1995-1999 Fine Arts Work Center, Provincetown, MA. Instructor, Drawing and Painting, Summer Program
1990-1994 Hartwick College, Oneonta, NY. Artist in Residence, Instructor (part time)
1991-1992 School of Visual Arts, New York, NY. Advisor, MFA Illustration Program
1985-1989,1994-
Fine Arts Work Center, Provincetown, MA. Visual Arts Committee (Chairman 1985-1989, 1994-1998)
1984-1989, 1993-98 Castle Hill Center for the Arts, Truro, MA. Instructor, Drawing, Painting
1981-1982 Mohegan Community College, New London, CT. Instructor, Art Appreciation, Art History
1979/1981 Connecticut College, New London, CT. Summer Instructor, Drawing and Painting
1976-1977 Maryland Institute, Baltimore, MD. Teaching Assistant, Mural Painting
1970-1971 Old Dominion University, Norfolk, VA. Freshman Math, Extension Division
Guest Lecturer/Visiting Artist
2000 Framingham State College, Framingham, MA
1998 Williams College, Williamstown, MA
1997 Brandeis University, Waltham, MA
1995-98 Fine Arts Work Center, Provincetown, MA
1995 Vero Beach Center for the Arts, Vero Beach, FL
1994 Provincetown Art Association and Museum, Provincetown, MA
1994 Plymouth State College, Plymouth, NH
1992/1994 Hartwick College, Oneonta, NY
1993 Dartmouth College, Hanover, NH
1992 Loyola College, Baltimore, MD
1991 Mohegan Community College, Norwich, CT
Berkshire Community College, Pittsfield, MA
Fine Arts Work Center, Provincetown, MA
1989 University of Connecticut, Storrs, CT
Parson School of Design, New York, NY (MFA Program)
1988 Duke University, Raleigh, NC (panel discussion, moderated by Donald Kuspit)
Montserrat College of Art, Beverly, MA
Mohegan Community College, Norwich, CT
1987 Massachusetts College of Art, Boston, MA
DeCordova Museum, Lincoln, MA
1986 Rhode Island School of Design, Provincetown, MA
1985-1989 Fine Arts Work Center, Provincetown, MA

Selected Reviews, Articles, Publications and Reproductions
2000 Moyle, Sabrina, "Reviews",artsMEDIA, Apr 15, p 19
1999 Parcellin, Paul, "Jim Peters" Reviews, Art New England, Aug/Sept 1999, p.41
Glueck, Grace, :Jim Peters at CDS Gallery", Art in Review, New York Times, Oct15,1999 p.B41, Daniel, "The Art Community in Provincetown", Art New England, Aug/Sep,pp.24-26.
Miller, Joanna and Emma Ross, "Watching Her, Watching You", Shovel,Jun, p.14Nickerson, Cindy, "Exhibits Showcase Leading Men of Provincetown Art Scene", Cod Times, Aug 8,1999.
Wildman, David, "Pulse: Two Artists Bend the Traditional Frame",Boston Globe Aug 23,1999 Tilghman,Chris, "Two Paintings by Jim Peters", Provincetown Arts, Summer, 1999
1995 Mandell, Pamela,"Portrait of an Artist: Jim Peters",Provincetown Magazine, p 33-35, July 20. Foreman, Debbie, "The Peters Principle: Jim Peters Talks About Erotic Art, the Meaning of Family and His ÔCrazy Energy," Cape Cod Times, June 24
1992 G.H., "The CDS Collection at the CDS Gallery," Artnews, Reviews Sections, Summer Dorsey, John, "Paintings in the Loyola ExhibitionÉ," The Baltimore Sun, pp 1D, 3D, 1991 Lloyd, Ann Wilson, "Jim Peters at CDS," Art in America, p 158-159, October
Vasari Diary, "Obsessed with Women," Artnews, p 26, MayTallmer, Jerry, "Eye on Art: For the Love of Women," New York Post, March 22 1990 Slivka, Rose C.S., "From the Studio," The East Hampton Star, July 19 Lloyd, Ann Wislon, "ReviewsÉJim Peters," Contemporanea, p 100, October Gordon, Alistair, "Surrealistic Views of Unnatural Nature," Newsday, part II, p 17, July 27
1989 Brigham, Ann, "Contemporary Provincetown," Cape Cod Antiques and Arts, p 19, October Nickerson, Cindy, "Exhibit Proves Provincetown Still Vital Srt Colony," Capeweek, September 29
Lloyd, Ann Wilson, "Provincetown and Wellfleet," Art New England, p 21,September Busa, Christopher, "The Bi National, Postmodernism in Provincetown," Provincetown Arts, p 127-135
Lloyd, Ann Wilson, "Provincetown," Contemporanea, International Arts Magazine, p 22-23, July/August "Goings on About Town," The New Yorker, p 15, April 17
1988 Nickerson, Cindy, "Provincetown Artist Looks at Meaning Behind Form," Cape Cod Times Magazine, September 2Lloyd, Ann Wilson, "Jim Peters, the Human Factor," Prelude, New England's Fashion Magazine, p 43-44, Summer/Spring Peters, Jim and Jon Friedman, "My Studio, a Photocollage," Provincetown Arts, p 122-127
1987 Faxon, Alicai, "Saints and Sinners," Art New England, p 25, March
Wolff, Theodore, "Those Summer Shows," Christian Science Monitor, June 29
1986 Widger, Marion, "Saints and Sinner: DeCordova Exhibit Documents the Role of Religion Today," Middlesex News, December 1
Stapen, Nancy, "DeCordova Show has Mass Appeal," Boston Herald, Nov. 21 Jillen, "Jim Peters: An Artist of Force and Feeling," Cape Cod Antiques and Arts ,December Klein, Ellen Lee, "13 Americans," Arts Magazine, November Books in Brief," The Sciences, Sept./Oct. (Reproduction) Tweeton, Leslie, "Artists in Residence," Boston Magazine, June
Peters, Jim, "Special PlacesÑThe Edge of Raw Nature," Art New England,Summer Lloyd, Ann, "Jim Peters: Unsettling Constructions of Emotion, Tension and Conflict, " The Review, January/February
1985 Tully, Judd, "New Horizons in Art: Exxon's Best National," Art/World, October"Album: New Horizons in Art: 1985 Exxon National Exhibition", Arts Magazine, p132-133, October Kramer, Hilton, "Exxon Exhibition at the Guggenheim", New York Times, Sept
Foreman, Debbie, "Jim Peters Unfazed by Success," Cape Cod Times,September 26 Wallach, Amei, "New Horizons in Guggenheim Exhibit," Newsday, Sept. 15 Dennison, Lisa, "New Horizons in American Art," (exhibition catalog), the Solomon R. Guggenheim Foundation, New York Busa, Christopher, "Who Are the New Artists of Provincetown and What Are They Thinking?" Provincetown Arts, August
Novak, Josephine, "New Art is Nurtured in Graduate Program," The Evening Sun, February 7 Kahn, E.J., "85 Faces to Watch in Ô85," Boston Magazine, January
1984 Muro, Marc, "A Place to Create at the End of the World," The Boston Globe, September Ryan, Margaret, "Association Hangs Colorful Show," The Advocate, March 8
1983 Yau, John, "Ten Fellowship Artists from the Fine Arts Work Center in Provincetown", Arts Magazine, April