GALLERY BERSHAD
---
JOHN RUGGIERI
grand prize winner at 2001 Seybold Boston
drawing series: "Glow," pencil on paper, each 8.5" x 11"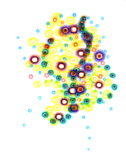 biography
John Ruggieri is an award-winning artist whose work is included in traveling exhibitions nationally and in collections internationally. John has shown in Provincetown for the last 10 years, represented by Provincetown Group Gallery, Gallery Matrix, and Stellwagen Gallery. His work is also presented at the LFL Gallery in New York. He attended Rhode Island School of Design and Hampshire College. His organization, Abstraction Made Elementary (AME), which links contemporary artists with young children through public art and technology projects, was awarded a grant from the invitational Fund for the Arts, administered by the New England Foundation for the Arts, to create the public art event ART@NIGHT in Jamaica Plain, MA, held on September 23, 2000.
education
1991 Hampshire College/Amherst MA. B.A. philosophy and painting
1984-1987 Rhode Island School of Design. art and design studies
solo exhibitions
1996-1998 Provincetown Group Gallery/Provincetown
1992-1995 Gallery Matrix/Provincetown.
1994 Providence Art Club.
1991 Stellwagen Gallery/Provincetown.
selected group exhibitions
2000 Gallery Bershad/Somerville. "Modular" December 8 - January 12, 2001.
curator: Roland Smart, gallery director
2000 LFL Gallery/New York. Ongoing. curator: Zach Feuer, gallery director
1999 Gallery 5 North/Boston. "RISD on Point" exhibition of Boston RISD alumni.
curator: Jeff Kalin, gallery director
1999 Harvard Graduate School of Education. "Pattern, Pop, and Layer" exhibition with artists Michelle Weinberg and Kelly Spalding and AME students. curators: Daniel Elias, Elias Fine Art, and David Sullivan, Genovese-Sullivan Gallery
1997 The Copley Society of Boston. "Manifest 97" a biennial survey of contemporary art juror: Carl Belz/Rose Art Museum
1997 South Shore Art Center/Cohasset. "White Black & Shades of Gray" juror: Carl Belz
1996 Provincetown Art Association & Museum. "20/20" curator: Lee Musselman and selected for extended show curated by Michael Carroll
1995 Office Environments of New England/Creiger-Dane Gallery/Boston. grand re-opening exhibition
1993-1995 Texas Fine Arts Association. "Drawing into the 90s" traveling exhibition/catalogue. juror: Neal Benezra/Chief Curator/Hirshhorn Museum & Sculpture Garden
1993 Berta Walker Gallery/Provincetown. group exhibition
1992 Rhode Island School of Design, Woods-Gerry Gallery. national juried alumni exhibition
curator
1997-1999 Harvard University Graduate School of Education. "Can a Child Really Do That?" AME traveling exhibition
1996 The Copley Society/Boston. co-juror, winter members' exhibition
1993 James R. Bakker Gallery/Provincetown. two group exhibitions: "The Soft Edge" and "Homorealism"
awards
2000 The Fund for the Arts, New England Foundation for the Arts. $30,000 grant awarded to Abstraction Made Elementary for ART@NIGHT multimedia public art event, at First Church in Jamaica Plain, Unitarian Universalist
1997 The Copley Society of Boston. First Prize/The Jean and Kahlil Gibran Award for Excellence "Manifest 97" a biennial survey of contemporary visual art. juror: Carl Belz/Director/Rose Art Museum
selected collections
Dr. Leonard Alberts/Provincetown
Blaine Bershad/Boston
James R. Bakker/Boston
John Choly & Saul Olyan/Providence
Paul Dandini/Boston
John R. Drews/Provincetown
Ron Duby/Provincetown
Paige Gillies/Newtown CT
David Griffiths EdD/Boston
Birgir Gudjonsson/Reykjavik Iceland
James Harris/New York
Jim Rhea/Boston
David Simpson & Thomas Green/Boston
Dr. Neal R. Smookler/Boston
Rep. Gerry Studds/Boston
Dr. Bruce J. Thompson/Providence RI
Bernie Vyzga/West Hollywood CA
visiting artist/teaching
2001 Hampshire College, AME class/project.
2001 Fogg Art Museum/Kennedy Elementary School in conjunction with Mondrian exhibition.
1996-2000 Boston Cultural Council supported by the Massachusetts Cultural Council. James M. Curley Elementary School/Boston
1995 Massachusetts Cultural Council and the Provincetown Cultural Council, Steven Jay Sampson Charitable Foundation. grants for Abstraction Made Elementary program, Provincetown Art Association & Museum
1990 John G. Austin All-age School/Jamaica West Indies. community service
1986 Rhode Island School of Design. Continuing Education teaching assistant
Artist's Statement
While working for several months at the Widener Memorial Room at Harvard University, I made these quiet yet radiant drawings. Sitting at a leather-bound desk surrounded by tall, English oak-paneled walls adorned with Corinthian capitals, I penciled these works. I almost felt like an anachronism, plotting abstractly within the antique luxury of Widener's rare book collection.
Think of: candy, bubbles, vents, speaker holes, bouquets, puddles, jewels, registration marks, MTV, fireworks, disco lights, cosmic order, psychological leaks. My experience with Photoshop has emerged in these drawings, where the digital language of artificial glow, gradient, and layer swirls in organic formations, in optical play.
This work harkens to an interest in the interaction between natural and "artificial" materiality, between atmosphere and hard edge. I am pursuing more conceptual developments in my work, e.g., abutting materials such as cherry wood veneer and jarring blue acrylic plexiglass, soft wax with hard oil color, to suggest and play with ideas of optical representation. I like Rachel Whiteread's breakdown of material reality into a simple geometry of bejeweled transparent resin and rubber. I appreciate the deconstruction of abstract painting (Marcaccio, Murray) and want to contribute in a constructive way. The high-end technique, the gesture, the Baroque origins and coolness of David Reed has always fascinated me. But I still like touch.

-John Ruggieri
---
©2000 legal notices