the Diary of Victor Frankenstein
illustrated by Timothy Basil Ering
(See Ering's paintings and poster for sale through Gallery Bershad .)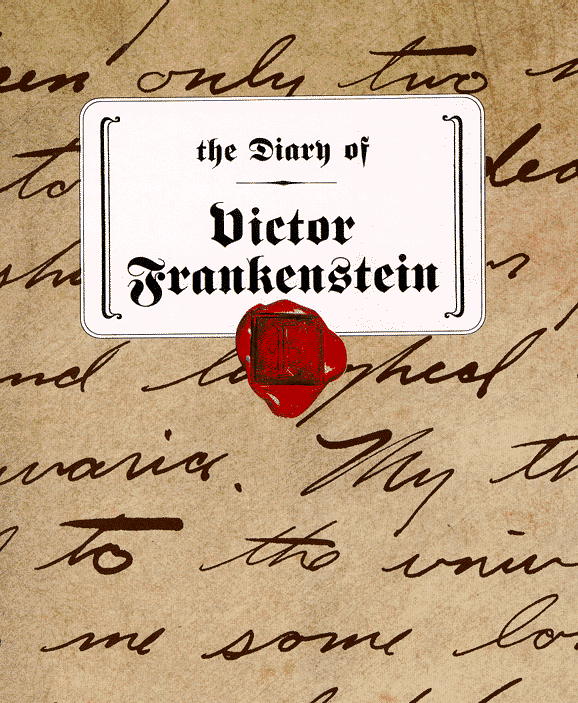 About this book, published 1997
One of the greatest of all forbidden pleasures is reading another person's private journal. And when the writer is none other than Victor Frankenstein, the experience becomes mesmerizing. In this book the Diary of Victor Frankenstein, written in his own hand, is the young medical student's account of his stupendous and horrifying creation: a monster, cobbled together from human flesh.
In the book also are sketches of friends and family, and of the fiend as well. And here too, found amongst the pages, are letters, receipts, and other small documents from a promising life that devolves into nightmare. Compulsively readable and meticulously produced, this volume serves as a testament both to a unique and powerful vision and to the craft of bookmaking.
ROSCOE COOPER has been a surveyor, China scholar, shuai jiao wrestler, executive chef, and restauranteur. He is the author of numerous poems and short stories. He has just completed his first novel and now lives in Santa Fe with the painter Vicki Teague-Cooper.
TIMOTHY BASIL ERING created illustrations for this, his first book, on and off a sailboat in Cuba, Mexico, Belize, and Guatemala. He currently lives in Proveincetown, Massachusetts.
Book available from Gallery Bershad
$19.95(+ shipping & handling) - Click here to send email to order
Book text, illustrations, calligraphy, lettering copyright ©1997 by Roscoe Cooper, Timothy Basil Ering, Kate Ridyard. Book published by DK Ink, New York; produced by White Heat, Ltd., Santa Fe, NM. Legal information about this web site.
And now, images from the book...